Overview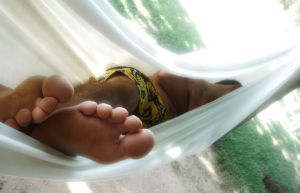 Your foot is made up of 26 bones, 33 joints, and more than 100 tendons. The heel is the largest bone in your foot. If you overuse or injure your heel, you may experience heel pain. This can range from mild to disabling. In many cases, if you have heel pain, you will need a doctor to diagnose the cause.
Causes
Rheumatoid arthritis and other forms of arthritis, including gout, which usually manifests itself in the big toe joint, can cause heel discomfort in some cases. Heel pain may also be the result of an inflamed bursa (bursitis), a small, irritated sack of fluid behind the heel. A neuroma (a nerve growth) involving the so-called Baxter's Nerve, (a nerve that courses under the heel bone), may also cause heel pain that mimics the pain of a heel spur. Tarsal Tunnel Syndrome, a pinched nerve beneath the inside ankle bone, too, can cause pain in the heel. Haglund's deformity ("pump bump") is a bone enlargement at the back of the heel bone, in the area where the Achilles tendon attaches to the bone. This sometimes painful deformity generally is the result of bursitis caused by pressure against the shoe, and can be aggravated by the height or stitching of a heel counter of a particular shoe. Pain at the back of the heel is associated with inflammation of the Achilles tendon as it runs behind the ankle and inserts on the back surface of the heel bone. The inflammation is called Achilles tendinitis. It is common among people who run and walk a lot and have tight tendons. The condition occurs when the tendon is strained over time, causing the fibbers to tear or stretch along its length, or at its insertion on to the heel bone. This leads to inflammation, pain, and the possible growth of a bone spur on the back of the heel bone. The inflammation is aggravated by the chronic irritation that sometimes accompanies an active lifestyle and certain activities that strain an already tight tendon. Bone bruises (Periostitis), are also common heel injuries. A bone bruise or contusion is an inflammation of the tissues that cover the heel bone. A bone bruise is a sharply painful injury caused by the direct impact of a hard object or surface on the foot. Stress fractures of the heel bone also can occur, but these are less frequent. On very rare occasions, there can be problems within the bone structure itself that cause heel pain. Paget's disease, cysts, bone tumours, and other conditions can occur in the heel causing pain, so it is important to be examined thoroughly.
Symptoms
Symptoms of plantar fasciitis vary, but the classic symptom is pain after rest--when you first get out of bed in the morning, or when you get up after sitting down for a while during the day. The pain usually diminishes after a few minutes of walking, sometimes even disappearing, but the pain is commonly felt again the longer you're on the foot. Fasciitis can be aggravated by shoes that lack appropriate support, especially in the arch area, and by the chronic irritation of long-periods of standing, especially on concrete, by being overweight. It doesn't help that fascia doesn't heal particularly quickly because it has relatively poor circulation (which is why it's white in colour).
Diagnosis
To arrive at a diagnosis, the foot and ankle surgeon will obtain your medical history and examine your foot. Throughout this process the surgeon rules out all the possible causes for your heel pain other than plantar fasciitis. In addition, diagnostic imaging studies such as x-rays or other imaging modalities may be used to distinguish the different types of heel pain. Sometimes heel spurs are found in patients with plantar fasciitis, but these are rarely a source of pain. When they are present, the condition may be diagnosed as plantar fasciitis/heel spur syndrome.
Non Surgical Treatment
Curing posterior heel pain requires calming the inflammation, resting the foot and increasing calf flexibility. Ice therapy and anti-inflammatory medications can be used to reduce the inflammation. Stopping exercises that stress the calf and Achilles is important. This includes walking, running and the use of stair climbers and elliptical machines. Placing a heel lift in each shoe can reduce some of the excess strain on the back of the heel. Stretching exercises to increase calf flexibility are important in curing this problem and preventing its recurrence. Wearing running shoes also provides good foot support and helps with this condition. Sometimes a walking boot is used to immobilize the ankle and let the area completely rest. Physical therapy is sometimes ordered to help reduce the inflammation and pain and to help improve the flexibility of the calf muscles. Occasionally these measures fail to relieve the pain and surgery may be needed. The surgical procedure involves removing bone spurs and repairing any damage to the tendon.
Surgical Treatment
Although most patients with plantar fasciitis respond to non-surgical treatment, a small percentage of patients may require surgery. If, after several months of non-surgical treatment, you continue to have heel pain, surgery will be considered. Your foot and ankle surgeon will discuss the surgical options with you and determine which approach would be most beneficial for you. No matter what kind of treatment you undergo for plantar fasciitis, the underlying causes that led to this condition may remain. Therefore, you will need to continue with preventive measures. Wearing supportive shoes, stretching, and using custom orthotic devices are the mainstay of long-term treatment for plantar fasciitis.
grip pads for heels
Prevention
Make sure you wear appropriate supportive shoes. Don't over-train in sports. Make sure you warm up, cool down and undertake an exercise regime that helps maintain flexibility. Manage your weight, obesity is a factor in causing plantar fasciitis. Avoid walking and running on hard surfaces if you are prone to pain. You should follow the recognized management protocol "RICED" rest, ice, compression, elevation and diagnosis. Rest, keep off the injured ankle as much as possible. Ice, applied for 20 minutes at a time every hour as long as swelling persists. Compression, support the ankle and foot with a firmly (not tightly) wrapped elastic bandage. Elevation, keep foot above heart level to minimize bruising and swelling. Diagnosis. Consult a medical professional (such as a Podiatrist or doctor) especially if you are worried about the injury, or if the pain or swelling gets worse. If the pain or swelling has not gone down significantly within 48 hours, also seek treatment. An accurate diagnosis is essential for proper rehabilitation of moderate to severe injuries.